Peach Blossoms are in bloom! Join us this week as we create this lovely Tall Wedding Centerpiece with gold embellishments and gem strands. This beauty is definitely eye-catching. So let's get started!
BUT WAIT!
Before we get started, I want to share an awesome tip on how you can earn cash back with your online purchases for all the items you will need to complete this project!
Our saying goes, "When Every Penny Counts, Count on Miss PlanIt." We love to save money and get great deals. Before purchasing anything online, we check out Ebates, find the store, click the current deal for that store and complete our purchase.
If you have never used Ebates, you are MISSING OUT. So for this project, you would go to Ebates.com, sign up, and then type in the store you plan to purchase from.
When completing a purchase through Ebates, you earn cash back that you can have mailed to you or sent via PayPal. Be sure to check it out! Click here to sign up for Ebates, and RIGHT NOW when you sign up, you will receive a $10 cash welcome bonus when you spend $25.00!
You were already going to complete your purchase online, so why not get some cash back on things you planned to purchase?
Let's Get Started:
Click our affiliate links below to purchase the supplies needed for this project: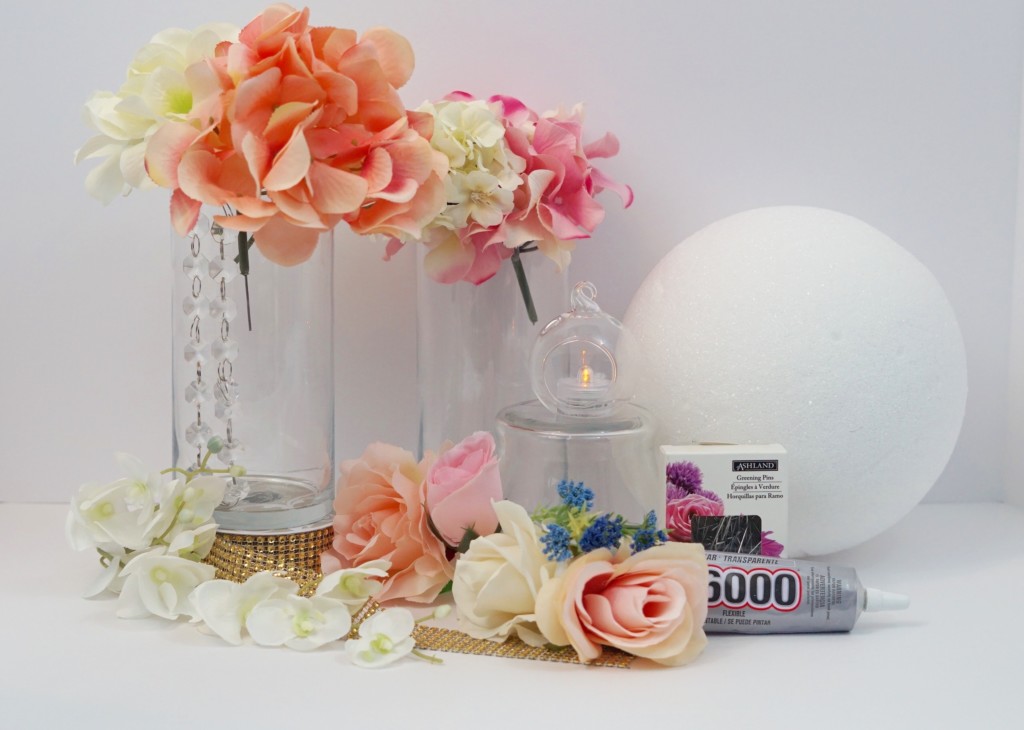 Video Tutorial
If you prefer written instructions, please continue reading.
How to Make a Tall Wedding Centerpiece
Directions:
STEP 1: First, take your Roman Urn Candleholder, turn it upside down, and apply E6000. Next, attach your  7.25 Inch vase to your roman urn candleholder. Then apply a weight such as a book and allow it to dry overnight. Once it is completely dry, you will add E6000 to the rim of your 7.25-inch vase. Attach an additional 7.25-inch vase to your other vase. This will give you a centerpiece that is close to 22 inches tall.
STEP 2: Next, take your gold rhinestone trim ribbon, measure it around your vase and cut it in strips, then begin hot gluing it all the way down your vase, which will also cover up the seams from where your two vases were connected. I chose to stop at the Roman Urn Candleholder, but you can also choose to cover that.
STEP 3: Apply hot glue to the rim of your vase. Then place your foam ball on top of your vase. Lastly, press down lightly to ensure it adheres to the vase.
Attach Your Gem Garland
STEP 4: Now attach your gem garland to your foam ball using floral pins. The first strand you attach will be about 14 inches in length. Your second strand will be about 1/2 of the first strand, which is 7 inches in length.
TIP: Be sure to add a dab of hot glue to the end of your floral pins, so your gem garland does not fall out of your foam.
STEP 5: Next, take your hanging tea light holder and attach it to your foam ball using 7 inch gem garland and a floral pin. Repeat this same step to attach another tea light holder. Lastly, place your tea lights inside the tea light holders.
STEP 6: Now attach more of your gem garland, but this time loop them and secure them with floral pins. These gem strands should be about 12 inches long.
Attach Your Flowers
STEP 7: Next, attach your flowers to your foam ball in the following order: 6-8 hydrangea heads, 6-8 peach, and 6-8 light pink hydrangea heads, 6-8 large peach roses, 6-8 cream roses, 8-12 peach roses, 2 orchid stems, and 8-12 lavender stems.
THE FINAL STEP!
STEP 8: Set the table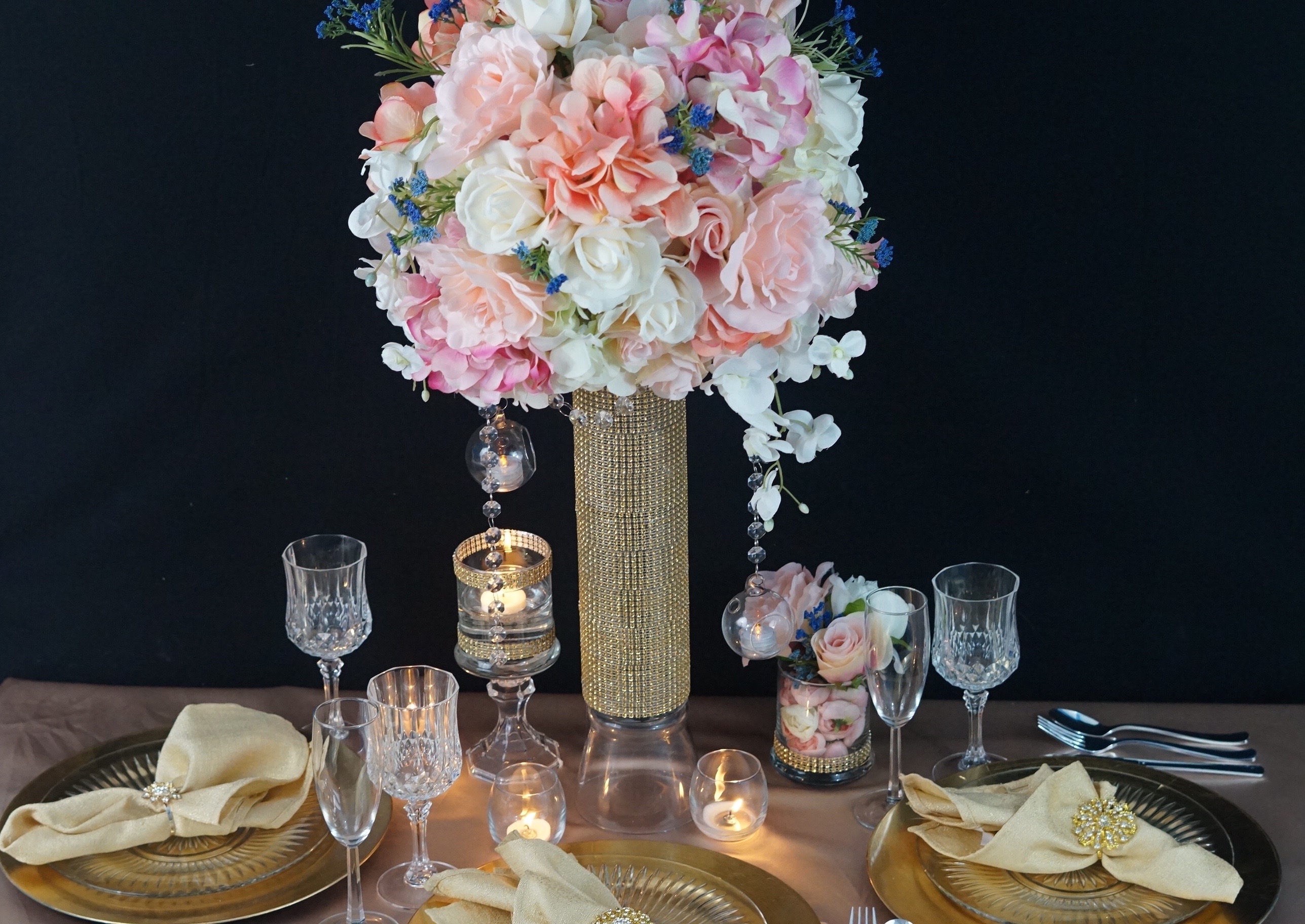 I absolutely love how this Peach Blossom Tall Wedding Centerpiece turned out! The outcome is amazing and will definitely add a special touch to your wedding! Don't forget to sign up for Ebates to earn cash back on your online purchases. Planning a wedding is expensive, but we aim to help you stay within your budget and make every penny count. Click here to sign up for Ebates, and RIGHT NOW when you sign up, you will receive a $10 cash welcome bonus when you spend $25.00! If you like the outcome, please subscribe to our Youtube Channel for more DIY Videos and follow us on Facebook and Pinterest.
Need help with an upcoming project? Be sure to send us a project request!
"Remember When Every Penny Counts, Count on MissPlanIt"